Dark & Medullated Fibre Risk Scheme
Australian Merino wool has enjoyed a high reputation and price premium for more than one hundred years because it produced wool tops with low levels of dark and medullated fibre contamination. Recently, early and later stage processors of Australian wool have noticed increased occurrences of dark and medullated fibres in wool tops produced from Australian Merino wool.
The International Wool Textile Organisation (IWTO), through its Australian affiliate, the Federation of Australian Wool Organisations (FAWO) has initiated a program to protect the reputation of Australia's premium Merino white wool by managing the risk of dark and/or medullated fibre contamination.
The Dark & Medullated Fibre Risk (DMFR) scheme has been implemented to ensure the continuing reputation of Australian Merino wool by providing Wool Growers with a tool whereby they can declare their on-farm management practices to minimise this source of contamination.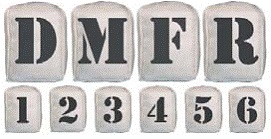 The aim of this program is to:
Enable Australia's white wool growers to promote their wool as such to buyers

Provide buyers and processors with a reliable and quantified measure of the level of dark and/or medullated fibre risk in sale lots. This includes contamination of white wool from traditional naturally occurring pigmentation, stains and from the new source. i.e. from contact with exotic breeds
This is achieved by assigning a Dark & Medullated Fibre Risk Rating from 1 (best) to 6 (worst) to sale lots, with Ratings 1 and 2 suitable for white or pastel shade end products. AWTA played a key role in getting the program off the ground and is strongly supporting this important industry initiative.
A range of international wool importers, topmakers, spinners and garment manufacturers encourage Australian wool growers to use the DMFR scheme.
Find out more:
DMFR - See What The Mills Say

Single Sale Lot Template Form

Multiple Sale Lot Template Form