Resources
AWTA regularly produces publications and resource material to assist and provide information to the Wool Industry in its day to day business with the Company, and to provide material to inform the industry about the Company and the services it provides.
The material is intended for anyone wishing to develop a broad understanding of wool, wool production, marketing, testing and processing, with particular emphasis on the role of objective measurement in these industry sectors.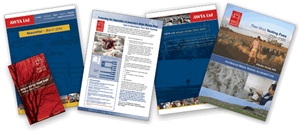 The material is broadly classified into a number of specific groups:
Annual Reviews
Brochures & Handbooks
Industry Links
Research Papers
It is the Company's policy to make all its publications available on this web site. Where practical, publications can be viewed as web pages, in instances where this is not practical they are available in PDF format. Publications produced by third parties deemed to be of value to the industry are also included.
Authors who wish to contribute their work for publication on this site should forward an electronic copy of the document to [email protected], together with advice of approval for publication. AWTA reserves the right to accept or reject such requests.